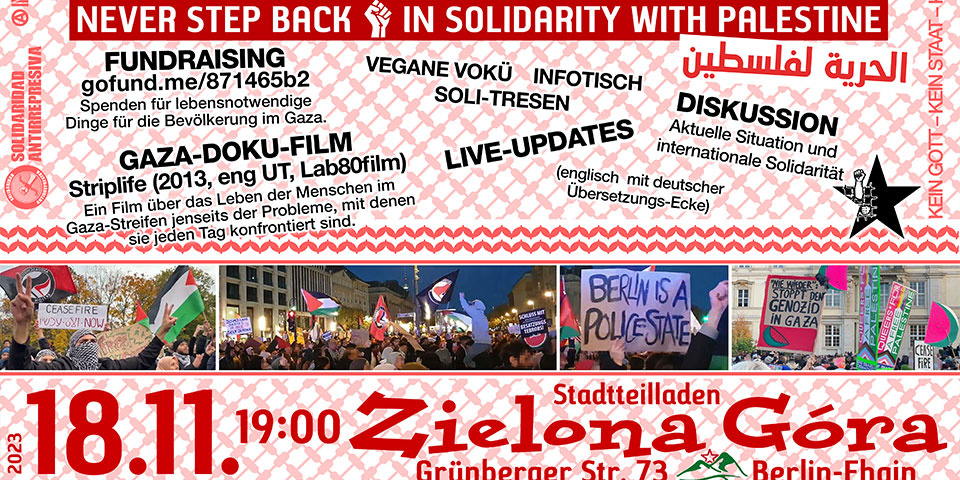 ▭ Poster, color
▭ Poster, print, black/white
◻ Sharepic
Fundraising, Docu Film, Live Updates, Discussion. With Vokü, Info Table & Soli Bar. A joint event organised by Solidarity Comrades, Internationalist Evening and Solidaridad Antirrepresiva.
Program/"timetable":
1) Opening with info-table and Vokü(vegan)
2) Gaza Docu Screening "Striplife"
3) Video Chat with italian filmmakers about the Docu and presentation of the "SOS GAZA" fundraising campaign
4) Discussion round with comrades from the organization "Palestine Speaks" about acutal situation and international solidarity
5) Soli-bar
(All donations, also for food and drinks, go to the "SOS GAZA" fundraising)
*FUNDRAISING: Soli for SOS GAZA. Donates to be able to purchase basic necessities, such as medicines, sanitary items, mattresses, canned food, baby food.
*DOCU FILM SCREEN: 'Striplife' (2013, english subtitles) - The people who live in the Gaza Strip have to deal with extreme situations and significant constraints every day. This film however shows that their lives consist of much more than this and gives us an insight into their day-to-day experiences.
*LIVE-UPDATES & DISCUSSION: Actual situation and international solidarity (english with german Translation corner)
*VOKÜ vegan Food, INFOTABLE, SOLIBAR