21.10.2023
(Sa)
16:00 Uhr
Oranienplatz, Kreuzberg
☉ 21.10.2023 (Sa) 16:00 ⚲ Oranienplatz, Kreuzberg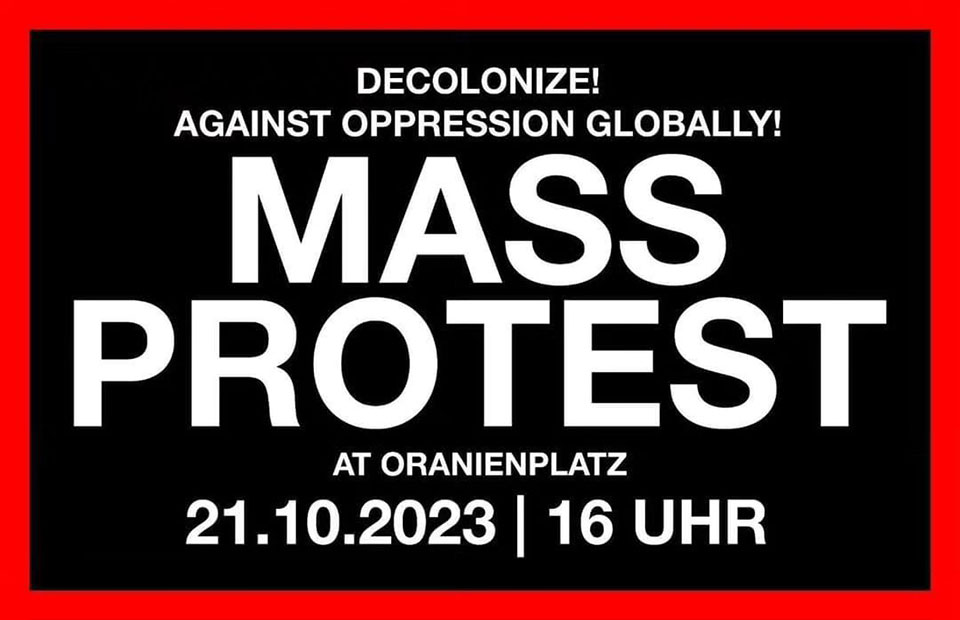 Enough is enough!
Decolonize our minds, bodies and lives! We demand the abolition of all forms of policing, military, prison systems, border regimes against every restriction of freedom of movement and freedom of speach!
We demand a world without apartheid, borders and fascism!
EU politics and interests are continuously disrupting the Middle East, pushing millions of people to be on the move, forced to leave their homes.
Despite Europe being accountable for political disruption, wars and climate change in the global south, the EU borders remain the biggest obstacle for those fleeing death and poverty.
Frontex, brutal coast guarding, pushbacks, deportations and constant criminalisation of migrant communities in Europe are putting millions of women*, children and LGBTQI communities at serious risk.
All around the world from the opressed muslim women* in France forced to take off their Hijab and Abaya, to the women* fighting in Iran against the Islamic regime forcing them to where a Hijab, taking away their most basic rights, the struggle remains the same.
We call out to fight and unite against all oppressive patriarchal, capitalist regimes across the world.
Whether facing dictatorship, (settler-)colonialism, occupation, on the move or in the streets, facing the police, in our work places or schools we face constant oppression, repression and exploitation.