22.07.2023
(Sa)
17:00 Uhr
Hermannplatz, Neukölln
☉ 22.07.2023 (Sa) 17:00 ⚲ Hermannplatz, Neukölln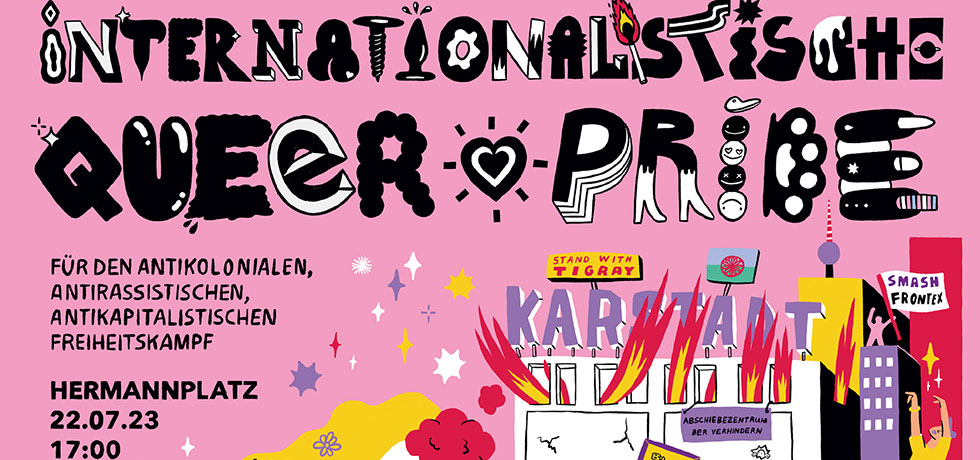 AKTUELLE INFOS - www.picuki.com/profile/iqpberlin
Route: Hermannplatz – KottbusserDamm – KottbusserTor – Adalbertstr – Oranienstr – Oranienplatz
Für den antikolonialen, antirassistischen, antikapitalistischen Freiheitskampf!
The Internationalist Queer Pride for Liberation would like to invite all those who share our politics to organise their own blocs during the march.
How to organise a bloc?
★ Contact us and include a short description of what you want to do and what for. (contact: https://www.instagram.com/iqpberlin)
★ Mobilise people in your community or network to join you. (We can help you write the call and we will spread it).
★ Prepare your banners or your forms of expression. (Contact us for anything you need).
★ Show up and march with us.
We welcome all radical anti-colonial, anti-racist, anti-capitalist liberation blocks. But this is still a queer march, thus, where possible, it is important for the blocs to favour their 2SLGBTIQ+ members in leadership positions and to include queer and transfeminist perspectives in their messages.